With the Fall Season, Estes Park shines in colors and wilderness experiences! Herds of Elk begin to roam the meadows and open fields; while sounds of bugling Bull Elk call out their territory. Join us as we acknowledge this unique season at the RUT RUN 5K as part of 'ELK FEST'. Kick starting the weekend of events, the 5K (3.1 miles) race offers a short and scenic tour of fall colors, grand views and possible Elk encounters (from a safe distance). Starting and finishing at downtown's Bond Park, runners, joggers, walkers and strollers, will head west on Elkhorn Ave and join the River Walk path at the Performance Park parking lot. Following the winding and scenic path, you will enjoy the radiant golden Aspen colors, hear the sounds of Fall River and pass by the historic residence of F.O. Stanley on the Wonder View return route. This run will quickly ignite your senses and appreciation for nature and its splendor. After the run, participants can purchase various delicious foods from vendors and receive a complimentary beer token for the Elk Fest festivities!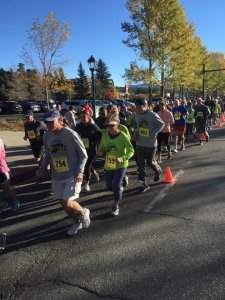 Date: September 30, 2023
Start time: 8:30AM, on Elkhorn Ave.
Who: All abilities and ages! Runners, Walkers, Strollers and group friendly pets are welcome!
Registration (on-line): Register Here!
Race Registration &  Packet Pick-up: Opens at 7:00AM at Estes Valley Library entrance.
Entry Cost :
Adults: $35
Youth (14 & under): $25
Seniors (60 & up): $25
Add $10.00 to entry cost on race day registration.
Add $15.00 to entry to purchase long sleeved race shirt
Participant receives: One free beer token- may use during weekend at Elk Fest.
Location: Bond Park, downtown Estes Park, Colorado
Parking: South parking lot at Estes Park Visitor Center, on Hwy 36.
Distance: 5K (3.1 miles)
Terrain: bike path and wide road shoulder
Awards – Overall 1st & 2nd female and male; Overall Masters 1st & 2nd female and male (40yrs+); Age Group, 13 & under, 14 – 16, 17 – 19, 20- 29, 30 – 39, 40- 49, 50 – 59, 60 – 69, 70 – 79, 80 & older
Post-Race Activities: Food Trucks, breakfast station, beer garden, music and participate at Elk Fest! Join the fun!
Our Sponsors
Elk Video-from Nick Molle Films